After 35 years as a guardian of Snow King Mountain and its visitors, Kevin Johnson still enjoys the job.
By Cody Cottier  Jun 9, 2021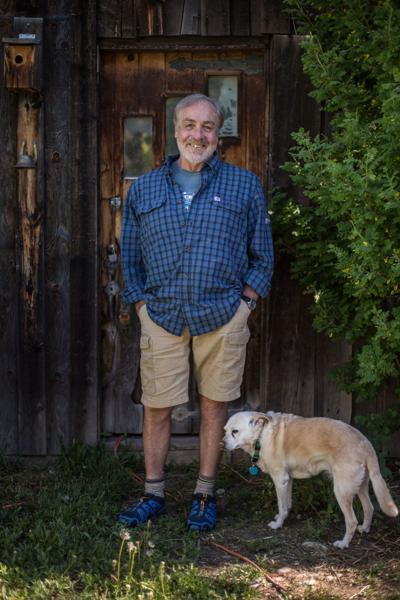 One day after Kevin Johnson moved to Jackson in 1985, as he was helping a friend paint a house across the street from Snow King, he wondered how he could ski for free in the valley. The project's contractor happened to be a volunteer patroller for the mountain that loomed above them, and he advised the newcomer to consider trading his own time for lift access.
Thirty-five years later, Johnson is still a guardian of the Town Hill and its visitors, not to mention one of the National Ski Patrol's most cherished members. Following decades of service — including leadership roles that involved him in decisions which rippled across ski areas all over the country — the organization inducted him into its Hall of Fame this year. But if you'd asked him that day in his late 20s, he'd never have guessed the future held decades at a small Wyoming resort.
Born and raised in upstate New York, Johnson had skied the Northeast from the age of 2 but didn't yet consider it the core of his identity. He'd spent years as an executive chef and at one point ran a five-star restaurant in his home state. By then he was venturing into construction, a pursuit he has sustained over the decades as owner and president of Johnson Builders Inc., which crafts log homes.
Nevertheless, patrolling came naturally. With a surgical nurse for a mother and some experience of his own as an emergency medical technician, "it was kind of a familiar scene," Johnson said. Soon he was enthralled by field medicine, by snow science, and above all by the prospect of lifelong learning. In his early days at Snow King he found mentors in the older patrollers, some of them veterans of the famous 10th Mountain Division in World War II.
"What they instilled in me, I've been trying to share with others over the past 30 years, to keep that level of enthusiasm and thirst for knowledge and team spirit, and share the camaraderie of the whole thing," he said. "It's been a career goal of mine to keep that going."
In time, as he gained expertise, he began to pass it along to others — less experienced patrollers in the winter, the general public in the offseason. From avalanche safety to outdoor emergency care, Johnson has "ascended to pretty much the highest level of the different disciplines" in snow sports.
He is, in some ways, a one-man institution of education. He has amassed 38 instructional mannequins, purchased with his teaching income, to ensure Snow King can train its patrollers. (Where does one keep three dozen life-size dolls? "Well, I've got a barn.")
One of the greatest highlights of his career was the chance to organize a ski patrol team for the 2002 Winter Olympics in Salt Lake City. The crew of 48, which Johnson handpicked from around the country (including a few from Snow King and Jackson Hole Mountain Resort), was "probably the best group of patrollers I've ever worked with." Three years of preparation turned them into "a well-oiled machine."
As he progressed in the National Ski Patrol, though, Johnson joked, "I got talked into the dark side of administration." He spent years on its planning and education committees, handling the dry tasks of budgeting, writing policies and procedures, creating curricula — "things like that that are not very glamorous but necessary." He remains the director for the Intermountain Division, which encompasses parts of Wyoming, Idaho and Nevada, as well as all of Utah.
That career trajectory was never his ideal. It was more a set of tedious chores in comparison with the hands-on work of patrolling. He believes in the importance of that administrative world, with its conference rooms and Zoom calls. But he much prefers six or even seven days a week with his skis on tangible snow, helping those immediately around him.
"It becomes very theoretical at a national level," Johnson said. "The more I go down that rabbit hole, the more I find the love of just being out on the mountain and watching the sun rise over the Grand, breathing the fresh air."
He's moving back in that direction, "focusing more on just being a local ski patroller, as opposed to a national game changer." The 63-year-old is beginning to think of retirement, when he'll be able to spend more time with his wife, Martha, with whom he has two adult children, Benjamin and Elizabeth. But in the meantime, he said, "I think I'm just going back to my roots a little bit."
After all this time he enjoys the job as much as ever. It's always changing, always new. Snow King saw more visitors than ever in the past year and thus more accidents. And because of the pandemic the patrollers were more limited than ever in how they could treat those skiers.
Now, in his offseason, courses are picking up again as COVID-19 begins to fade (he taught five in May). In a few more months he'll direct his energy again toward recruiting and nurturing the next generation of ski patrollers at Snow King, and all the while he'll have the "family" of current and former ones in mind.
The bond between them goes beyond the professional setting. Just a couple of weeks ago he and three of his colleagues drove nearly 1,000 miles round trip to Cheyenne to visit a former Snow King patroller of 28 years who is fighting cancer. The entourage brought gifts from those who couldn't make it.
"We thought we'd go cheer him up," Johnson said. "That's the kind of family that we foster with the volunteer patrol. If somebody is in need, if we can help them, we're going to."
That, too, is a bit of wisdom he strives to pass on — a piece of the philosophy he learned from the patrollers of yesteryear. He admits it's challenging to convince young people to follow his path, to seek mastery in the realm of outdoor education and lifelong community on the slopes of Snow King. But that sure won't stop him trying.
"My level of commitment and motivation to inspire what was taught to me 35 years ago hasn't really waned a hell of a lot," he said. "Just keeping that fire alive is my primary mission."
"My level of commitment and motivation to inspire what was taught to me 35 years ago hasn't really waned a hell of a lot." — Kevin Johnson snow king ski patroller
Contact Cody Cottier via This email address is being protected from spambots. You need JavaScript enabled to view it.